The Pipa News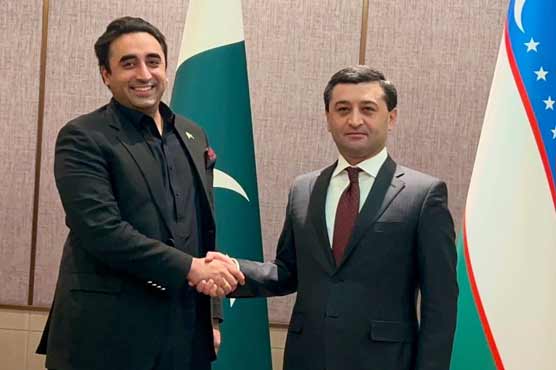 Tashkent: (Web Desk) Foreign Minister Bilawal Bhutto Zardari arrived in Tashkent, the capital of Uzbekistan, to attend an Economic Cooperation Organization meeting where he met with the Acting Minister of Foreign Affairs of Uzbekistan.
During the meeting, both foreign ministers agreed to strengthen mutual cooperation. On this occasion, the leaders of the two countries reaffirmed their commitment to strengthening cooperation in the field of trade and energy.
It is worth noting that the Minister of Foreign Affairs participates in the 26th meeting of the ECO Ministerial Council, which takes place in Tashkent, the capital of Uzbekistan, the theme of the conference is "The Year of Strengthening Relations".
According to the Ministry of Foreign Affairs, Foreign Minister Bilawal Bhutto Zardari will deliver a speech at the meeting of the Ministerial Council, and on this occasion will hold bilateral meetings with ministers and other delegates of the member states.
The Council of Ministers is the Economic Cooperation Organization's policymaking forum that approves the organization's decisions and annual work plan.
As a founding member, Pakistan is involved in the activities of the Economic Cooperation Organization (ECO), which aims to promote effective regional cooperation, with particular emphasis on communication, trade, culture and connectivity.